The latest art challenge is Birds & Jungle
Gabby and I wish you all a happy New Year and, although the next few months do look a little challenging, we are here with more art ideas and very much hope some of you will "have a go" and just play with your paints and brushes. Hopefully, it will help to pass the time and be enjoyable too.
This month, the theme "BIRDS & JUNGLES" has arisen from a curtain fabric sample which I had ordered. Gabby and I thought it would be a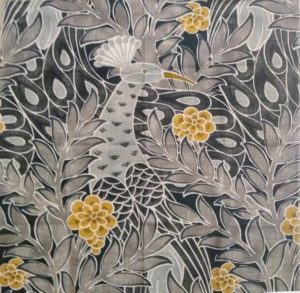 fun and wacky topic, allowing you to use flat shapes and bright colours, which will lighten up the winter days. Please look at the examples.
STARTER and ACTIVITIES TO TRY:
Look at the ideas and artists below for ideas and inspiration.
Start by sketching out some ideas onto paper.
Choose a design and draw the outlines only (in pen, pencil, ink, felt pen)
You may like to try a few ideas whilst we get some samples/ideas/demo together.
YOU WILL NEED SOME OF THESE THINGS:
Paper, Pencils, Pens, Inks, Watercolours or Acrylics, any Paints, Crayons or pastels, Brushes –and perhaps collage papers, glue, stencils
Enjoy being creative and we will keep you busy!!
Love Gabby and Judith