It's so easy and there is no cost to you.
Did you know that you can raise money for us for free whilst shopping online?  There are many online retailers and website that offer charity donations on eligible purchases, at no extra cost to you.   You need to register for most services and select us as a charity first but then continue shopping as normal.  It's that simple.  So why not sign up and start raising money from the everyday items that you purchase!
Easy Fundraising
Choose your shopping portal – Create an account – go to their website or app – select the retailer you want to shop with. You will then be redirected to the retailer's site and your purchase will be tracked. Once confirmed your donation will show up in your account.
Most major retailers, like John Lewis, Argos, Boots and eBay are included, as well as hundreds of others across fashion, travel, insurance, homeware, business supplies and more.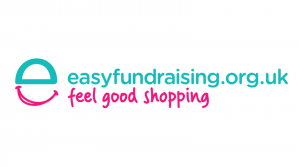 Amazon Smile
Amazon donates 0.5% of the net purchase price (excluding VAT, returns and shipping fees) of eligible purchases to the charitable organisation of your choice.
Amazon Smile is the same Amazon you know. Same products, same prices, same service.
To use Amazon Smile visit the website or download our how to guide.