Your legacy will help us to continue our work and have a positive impact on someone affected by MS
In these uncertain times, making provisions for your loved ones after you've gone is even more important.  But did you know that you can also leave a gift to the Chilterns MS Centre in your will too.   Leaving a donation to our charity could be the most important gift you'll ever make and will ensure that your legacy lives on to help others.
How to leave a gift in my will
If you would like to support the Chilterns MS Centre by leaving a gift in your will for the Charity then please talk to a solicitor.  They will be able to advise the various ways you can do this and discuss which might work best for you.  You can do this if you already have a Will (by adding a codicil) or when you create a new Will.
Why not take advantage of the Centre's 'Make a Will Month' scheme which we run each year?  Our partner solicitors for the month will donate their fees to us instead of charging you, so the Centre benefits from the administrative costs of the process.
Make a Will Month
We will be running Make a Will Month again in November 2021 and will be releasing the names of this years partners later in the year.  Please check back to see how you can be involved, or email the fundraising team to be notified when further information on this is available.
How your money helps?
We know that your first priority when making a will is to provide for your loved ones, but many people find that even after they've done this they can afford to leave something to a charity that matters to them. Leaving a gift in your will to a charity close to your heart has the power to make such a difference to other people who will be on a similar journey. It's easy to arrange and may also reduce the amount of inheritance tax that your loved ones will have to pay.
By leaving a gift in your will to the Chilterns MS Centre, your legacy will help us to continue the work that we do and can have such a positive impact on someone affected by MS.
To help you to make the right choices for you and your family in your will, we often run free sessions on will writing and lasting powers of attorney with our partners BWK Solicitors. To find out about future sessions contact the Fundraising Team or call 01296 823040.
So, please think about leaving a gift to the Centre today, to help us to help others in the future.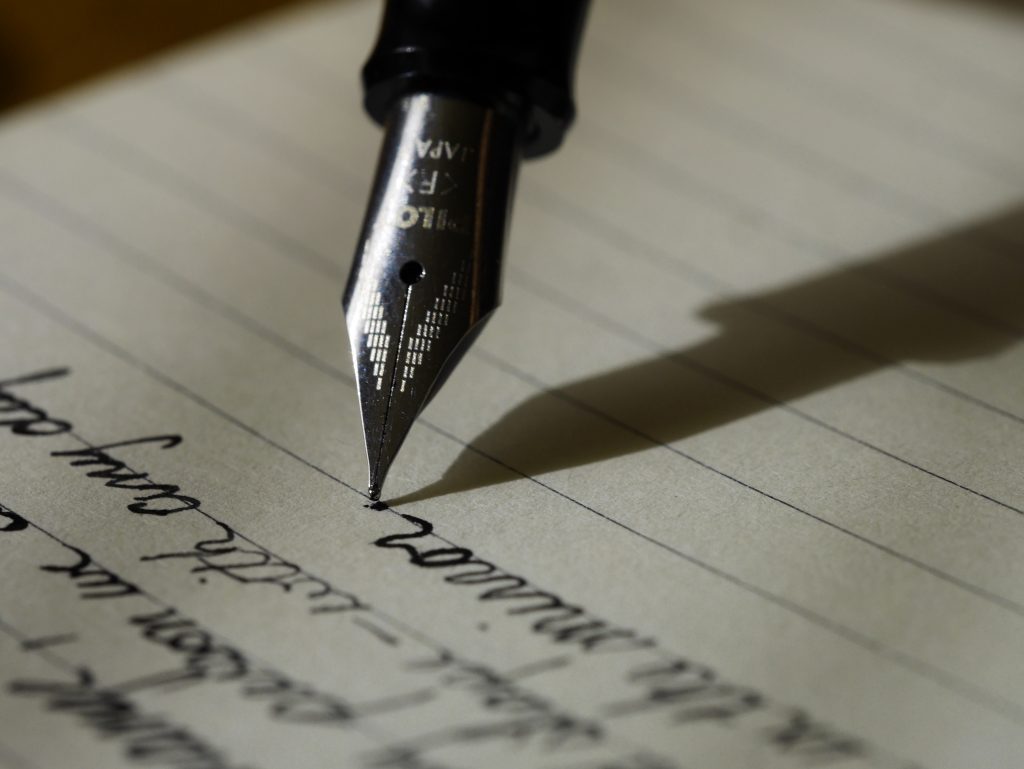 In November 2020 we teamed up with local solicitors for Make a Will Month, where our fantastic partners waived their fees for a standard Will in lieu of a donation to the Chilterns MS Centre.*  This gave our supporters the perfect opportunity to make or update their Will, save money and support their local charity at the same time.
How 'Make a Will Month' works:
Making a will can be as easy as 1-2-3
Make an appointment in November with one of our participating solicitors quoting "Make a Will Month – Chilterns MS Centre"
Decide on who you would like to provide for in your will
Donate to the Centre instead of paying the cost of a standard will.
By making your Will during Make a Will Month you will not only be taking care of your loved ones in the future but you will be helping to support local families affected by multiple sclerosis. Your support is needed more than ever before.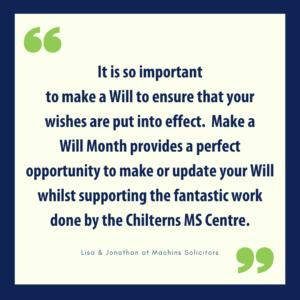 Our suggested minimum donation is £130 for a basic single Will or £200 for a pair of basic mirror Wills. The solicitor reserves the right to charge part of their fee if the Will is not standard and they will discuss this with you before proceeding.
The cost of Will writing is much higher than the donation amounts.
Our participating Solicitors will be happy to offer remote service appointments, taking initial instructions over the phone or via video call, whichever the client prefers.
Book your appointment directly with your chosen solicitor (NOVEMBER 2020)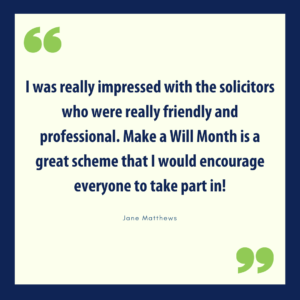 5 George Street
Watford
Hertfordshire
WD18 0SQ
T: 01923 225212
Contact: Louise Jean-Marie
Telephone: 01923 225212
Email: ljean-marie@penmansedgwick.com
Lockhart House
295-299 High Street
Berkhamsted
Hertfordshire
HP4 1AJ
Contact: Lisa McBrearty
Telephone: 01442 872311
Email: lisa.mcbrearty@machins.co.uk 
Contact: Jonathan King
Telephone: 01442 872311
Email: jonathan.king@machins.co.uk
*Participating solicitors are providing their time and advice for free in lieu of this donation