Give the gift of a fulfilling life this Christmas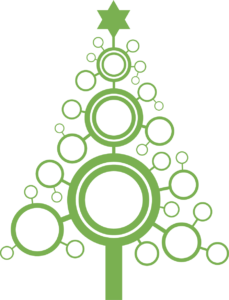 Imagine a Christmas where your symptoms affect your movement so much that you can't get out of bed in the morning to open your presents with your children or you feel so tired from fatigue that you can't stay awake long enough to enjoy Christmas dinner.
Not being able to enjoy what should be a wonderful day spent with their loved ones can leave people with multiple sclerosis feeling completely isolated, frustrated and useless because their sense of purpose and enjoyment of life has been stripped away by their MS.
With your help, we want to give people living with multiple sclerosis the support they need to rebuild their confidence, give them the tools to manage their symptoms and help them overcome daily obstacles so they can enjoy this magical time of year.  Your gift will give people, like Paul, hope to feel in control of their life once again.
"I'm looking forward to Christmas this year.  I have a great partner who understands what I'm going through.  I have amazing friends who I can be myself with and I know I have a safe place to go that will support me whenever I need it.

"But a few years ago, life was very different. 

"I was a successful chemical engineer for 24 years and enjoyed family life with my wife and children.  Then I received the devastating diagnosis that I had Primary Progressive multiple sclerosis in 2013.  My mobility progressively got worse and everyday tasks became more difficult or even impossible.  My life began to fall apart.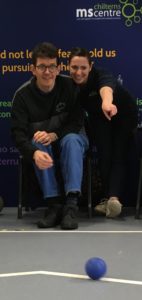 "I had to retire from a job I loved, separate from my family and watch my independence disappear. I lost my confidence and sense of purpose as I could no longer work or be the husband, father and son I wanted to be.  I had little social interaction with others and felt worthless.  In a few short years I had gone from living life to simply existing.  All because I have multiple sclerosis.

"Luckily my MS nurse told me about the Chilterns MS Centre and I'm so glad I went along.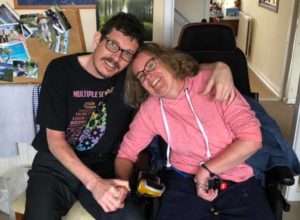 "Thanks to the practical and emotional support that the Centre and its members have given me, I am now learning to live with my MS and not let it define me.  I no longer feel isolated and I am heading in the right direction to get my life back on track. 
"My greatest wish was to be able to have a sense of purpose and contribute within the home.  I wanted to do something that a lot of people might take for granted – to cook a meal for my family.  This hadn't been possible before as my mobility and balance are poor and I can't use my hands properly.  But with a lot of encouragement and practical advice from the team at the Centre I managed to make a pasta carbonara – my first meal in 2 years!  It may not have been Michelin star quality but it was great because I did it myself.  Now I regularly cook and my confidence in the kitchen is growing.  I'm looking forward to helping with the Christmas dinner this year.

"I still have a long way to go but joining the Centre was a definite turning point in my life. The staff give you so much time and effort – I feel like I'm not on my own and that's fantastic.  There's so much humanity here.  I love this place to bits.
Thanks to your support, Paul is able to look forward to enjoying Christmas again. 
The Centre has been supporting people with multiple sclerosis for 35 years. You could give the greatest gift this Christmas by donating £35 in our 35th year.
Your gift could make a real difference to many more people with multiple sclerosis by enabling us to embrace them into our family at the Centre. We can then help to regain their sense of purpose and overcome some of the obstacles they face on a daily basis, allowing them to remain independent for longer and live a fulfilling life.