MAKE A PLEDGE FOR 2020
Your pledge, or promise, to support the Centre will help people affected by MS to live a healthier and happier life. Without your support we couldn't continue help some of the many people affected by MS. We offer physical, practical and emotional support to help people to live a full life with MS. You can give your time, money or experience.
Any support you offer helps some of our 570 members affected by MS, including Nathan.  He was diagnosed with primary progressive MS in 2017. He comes to the Centre regularly for treatment to alleviate his symptoms, as drug treatment is not available to him.
The Centre has made a positive impact in my day-to-day life by helping me re-learn how to walk again.  There is also the social aspect where I have met others with MS and we share knowledge and ideas together.  My whole family now gets involved in the Centre by taking part in events and helping at collections as we want to continue to support the Centre, which is a lifeline to all of us.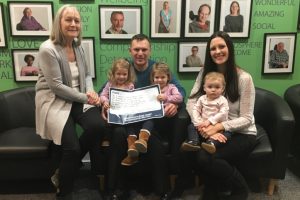 So many people have already helped.  Will you be one of them?
WHAT WILL YOU DO?
There are so many ways to get involved:
Make a regular donation
Offer your company services pro-bono
Give a few hours of your time each month
Get sweaty and complete a sponsored event
Channel your inner Mary Berry and arrange a cake bake or other fundraising event
A longer list of ideas can be download here.
However you choose to support the Centre, please let us know what you are doing so that we can support you.
Join in and make your pledge on this page or contact the fundraising team at the Chilterns MS Centre.
Download a blank pledge poster and use this for your photo.  Don't forget to share on social media too using #MyMSPledge
Thank you!