This week's recipe comes from our dietician Claire Fenlon.  Its a great spring pea soup.  Very tasty and nutritious.
Green pea soup
A really easy soup whose ingredients are all ready-prepared and frozen. You can, of course, use fresh ingredients and vary them according to what you have available. A great source of fibre and vitamin C.
Makes 4 portions (1200ml) Preparation time 5-10 minutes Cooking time 10 minutes Suitable for freezing
Ingredients:
1 tbsp vegetable/ rapeseed oil
150g frozen chopped onion OR 1 medium onion, chopped
500g frozen peas (garden or petit pois)
4 small blocks frozen mashed potato OR 1 medium potato, peeled & grated
175g frozen chopped spinach OR 100g fresh leaves, washed
600ml water
1 tbsp frozen chopped mint or 5 mint leaves
Method
1. Heat the oil in a large saucepan, and gently fry the onion for 2-3 minutes until softened but not browned.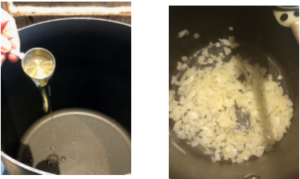 2. Place all the remaining ingredients in the saucepan and bring to the boil, stirring occasionally.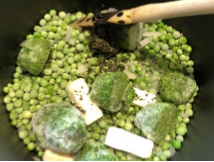 3. Cover and simmer for 5 minutes.
4. Remove from the heat and use a hand blender to blitz the soup until smooth.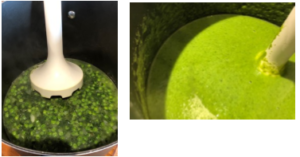 5. Season to taste with a little salt, pepper and nutmeg.
6. Serve.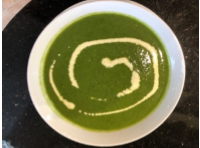 Serving suggestions Add a tablespoon of single cream, or croutons, made by drying cubes of bread in the oven.
Variations:
1. Omit spinach and use another 100g peas.
2. Use 300ml milk and 300ml water.
3. Omit mint and use a herb of your choice.
Storage including freezing; Store in an airtight container in the fridge for 2-3 days or freeze.
Nutrition per portion assuming ½ tsp salt to season, and taking into account cooking losses.
142kcal, 4.3g fat, 0.1g saturates, 18.2g carbohydrates, 9.7g sugars, , 8.6g protein, 8.3g fibre, 0.65g salt and 18mg vitamin C.