Gareth's Story
Gareth has had to give up many of the things he loved because of his multiple sclerosis. He was a builder, but his MS was causing him to have accidents on site and so it was unsafe for him to continue. He was also a keen footballer but had to stop playing that too.
But thanks to the support and guidance he has received from the Chilterns MS Centre, he has been able to keep motivated, stay independent and keep doing some of the other things that are so important to him and his family.
 This is Gareth's story.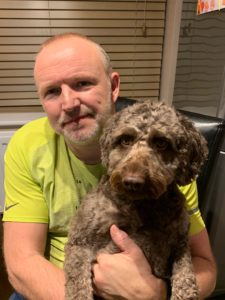 "I used to be an active footballer, but my legs started to not do the things they should and I was getting pins and needles down my back every time I bent my head down. That's when I was diagnosed with MS.
"Everything started to get worse so I began a course of physiotherapy at the Centre. And over time I have tried many of the services available there. I have hydrotherapy to maintain movement in my arms and legs, acupuncture to help my bladder and I am about to try oxygen therapy to help with my fatigue.
"One of the things that has made a big difference to my life was going on the fatigue management course to understand my fatigue better. I love to keep fit and active and I used to really go for it at the gym. But it used to take me a couple of days to recover and I thought I may have to give that up too. Going on the course has helped me to realise that it is ok to take regular breaks and go for shorter gym sessions. This way I can still feel the benefit and continue doing something I really enjoy.
"Unfortunately I can't play football anymore but along with the gym, I can also keep walking my Cockerpoo, Cooper. By walking for 2-3 minutes then having a rest, I can walk him for much longer than I could before, which is great. I wouldn't have done that before going on the course.
"I was also getting moodier at home because I was so tired. Now, because I can manage my energy levels better, my mood has improved and my wife has certainly noticed a difference!
"The advice from everyone here is great. I was walking with one stick and was encouraged to use two instead. I thought this meant I was going backwards but actually now my posture is much better and it's made a real difference.
"Coming to the Centre initially was scary but now I really look forward to coming here. Everyone is so friendly. Coming to the Centre really helps keep me motivated. If I could come more often I would!"
Sheryl, Gareth's wife, echoes his thoughts.
"Since Gareth has been attending the MS Centre he has a much better understanding of his fatigue, this has enabled him to enjoy life and realise that it is okay to rest when he's feeling tired. Gareth's mental health has improved dramatically, he is less frustrated because he is now able to listen to his body more following the support he has received at the Centre. Gareth really enjoys attending and feels people are listening to his needs and he is offered various treatments to help improve his wellbeing."
Gareth has been proactive in trying to understand and improve his symptoms. This is the self-management approach that we encourage all of our members to take, under the guidance of our expert clinical team. Many of the therapies or workshops he has taken part in do not require you to be referred by a physiotherapist – you can simply ask to be added to the list.
If you would like to take part in any of the services mentioned here please contact the Centre by emailing info@chilternsmscentre.org, by phoning 01296 696133 or speak to your normal physiotherapist who will be able to advise you on how to take part.