Feeling a sense of belonging
Steve Rose was 25 when he was diagnosed with multiple sclerosis back in 1993. He was flying high in life with a career in IT developing, a new engagement and his rock band getting signed. The future looked bright. This is Steve's story.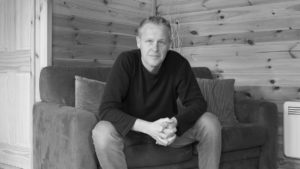 I had started experiencing two (what I thought were unrelated) symptoms. First my eyes had 'something odd' going on, was it a shadow? My opticians couldn't say what it was. My legs started feeling a strange sensation, a numbness that moved me down a route of possible spine issues or a trapped nerve, but with a belligerent and consistent nature I kept digging and ended up going for an MRI scan to see if that could find a cause.
It was scary, real-world stuff as the guy before me suspected he had Motor Neurone Disease. Wow! This is serious, I suddenly thought, and got a little scared.
After the MRI, life went quiet, I kind of forgot about things, moved around a bit, but then I got an invite to see a neurologist. Okay, I thought, it's on my birthday, but it would be good to know what this thing I have is. So I turn up to see this guy I have never met in a hospital I had never been to, on my own, taking some time from work. He shows me some pictures and, when I ask what it is, he says "well, of course, you have MS." I'm a little stunned and he hands me a flyer about MS and I leave.
I was in shock. I had heard of MS. I thought of wheelchairs but knew very little. This is the time before the internet so it was people's stories (scary mostly) and libraries (not much available).
My first instinct is to tell everyone – work, friends, family. That was hard on so many levels. My parents were in shock, my mum had Parkinson's and we had seen her symptoms worsening. They felt guilt, helplessness and had so many questions. Work didn't know what to expect.
Telling my fiancé was hard as we were supposed to be looking to the future, and making plans. Suddenly it felt like all those dreams and goals had gone.
I came across the Chilterns Neuro Centre, (Chilterns MS Centre as it was known at the time), probably in 1995, and found it helpful to be around a skilled team for information, potential treatments and support. I made use physiotherapy, the dietitian and oxygen therapy.
I was joined by a friend who had also been diagnosed. We both found things hard as we were relatively healthy and found it challenging to be around different levels of disability. I think it is important to build your tribe to support you and being mindful of the diversity of the disease is beneficial but sometimes a barrier. We stopped coming to the Centre and it wasn't until I left work about 25 years later that I found the Centre again.
Since that time I had experienced two major relapses and had recently left my work in IT, although I had retrained as a psychotherapist which allowed me to be more in control of my own timetable.
I made use of the massage, yoga and fatigue management services the Centre offers, the latter of which I found really helpful as it made me more aware of what fatigue is. Previously I had just self-medicated my tiredness with caffeine but now I realised it was more than just tiredness. I am better able to recognise fatigue, manage it better by planning around it. I plan my meetings during the day better and make sure I schedule in some rest breaks.
When lockdown occurred, in a strange way I found this really helpful as with exercise classes at the Centre online it meant that everyone was in the same position.
I am a member of my local gym which I find useful for improving my fitness but it is great to have the advice and support of the team at the Centre who know what my limits are and how to or, to be more precise, how not to push them. With MS I need to listen to my body perhaps more than most.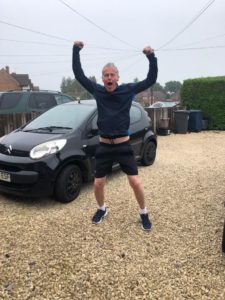 I have recently completed the Couch to 5K programme and am really enjoying my running at the moment.
The Centre gives you a sense of belonging, community and support with whatever you need. From Facebook groups to Centre activities I would advise anyone with MS to get involved and get support according to your need.
MS has given me so much, it's allowed me to find purpose, freed me from the traps of ladder climbing, allowed me to be more congruent to who I am and gave me the insight to life's values and purpose (normally a mid-life crisis subject) when I was 25.
If you would like to take part in any of the services mentioned above, please contact the Centre by emailing info@chilternsneurocentre.org, by phoning 01296 696133 or speak to your normal physiotherapist who will be able to advise you on how to take part.
You can hear more from Steve on his MS Tiger Facebook page.