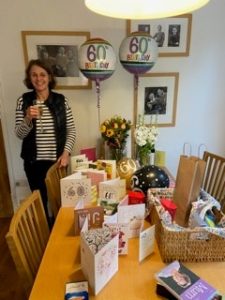 When Joanna decided to celebrate her 60th birthday and support the Chilterns MS Centre, the world was experiencing a pandemic. The easing of local restrictions meant Joanna could celebrate with close family and friends.
Joanna asked family and friends who would usually buy presents, to instead donate an amount of their choice to the Chilterns MS Centre. Together they raised over £215 for the Centre.
We interviewed Joanna to find out what it takes to organise a milestone birthday bash and share her tips on how you can use your special occasion to raise awareness and funds for the Chilterns MS Centre.
Why did you decide to support the Chilterns MS Centre with a birthday fundraiser?
As soon as we were informed that restrictions would be partially lifted in mid-May, I knew I wanted to take advantage of that and get something nice in the diary to mark my 60th birthday, especially after a long 16 months of not being able to meet up and see friends. I knew I wouldn't want presents as such and wanted to spread the word about the good work the Chilterns MS Centre does so, it seemed obvious to ask friends to give a donation in celebration of my birthday.  The MS Centre had suffered financially during the pandemic, like all charities, so to be able to make a donation seemed ever more important. I have also been impressed by the way the Centre is led and managed with clear communications to members.
Tell us how you went about setting it up and asking friends and family for support?
Firstly, I sent a 'hold the date' email in February for my birthday (which fell on a Sunday in May!) and invited my local friends to join me for a birthday walk followed by cake and fizz in the garden. The Chilterns MS Centre's fundraising team were fantastic and told me the different ways friends could donate. I decided to receive donations through the website (friends and family added a birthday message to me on the note section) and included a link in my final confirmation email. Donating online was very easy.
Why did you decide to support the Centre?
My brother has secondary progressive MS and has been supported by the Centre since he moved here 5 years ago. We started with weekly physio and then he had a course of hydrotherapy which we managed to complete just before the first lockdown. He really enjoyed hydro and the ease of movement and stretching it gave him.
What tips would you give to anyone thinking of hosting their own birthday fundraiser?
Just do it. It's very simple, the fundraising team support you, people are happy to support something you believe in and have a connection with.
What is your favourite flavour birthday cake?
That is very hard to answer! Probably coffee and walnut.
If you have a celebration coming up like a birthday, wedding or a big get together with friends and feel inspired to do the same as Joanna, you can get in touch with the fundraising team by calling 01296 823040 or emailing: fundraising@chilternsmscentre.org