Going the Distance
Mass participation events are back with a bang as we near the end of 2021, and here at the Chilterns MS Centre, we're thrilled to have an incredible duo supporting and representing us.  Claudia and Julie both decided to take on Marathon challenges to raise funds and awareness for the Centre.
Swimmer, runner and member, Claudia pounded the pavements of London for the return of the famous 26.2 miles in October. She did this just two weeks after she completed Swim Serpentine, a two-mile open water swim in London's Hyde Park.  As she also completed Ride London in 2019, Claudia has now completed all of the London Classics too – wow!   As someone living with multiple sclerosis, Claudia has made use of several of the treatments and services available at the Centre, which have enabled her to keep as well as possible so she can continue doing the activities she loves.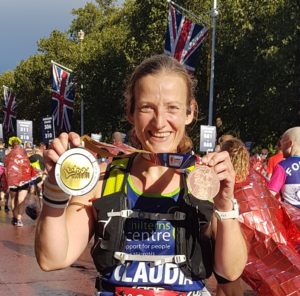 London Marathon & London Classics done! The crowd support was absolutely amazing. My run sort of went to plan until past 31km, but spasms, cramps and running don't mix very well and I had to hobble the final 10km after being blown around Canary Wharf like it was a gale storm! Did I get a PB? No, in fact it was a PW @ 4:53:49 Does it matter? Absolutely not, I had a brilliant time, despite the pain & blisters. I felt very privileged still being able to take part, I know not everyone is as lucky. Thank you so much for all your support!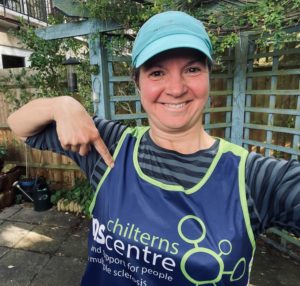 Julie will take on the Oxford Half Marathon on 17 October, wearing her green and blue vest with pride. She used to work as a physiotherapist as part of the Centre's clinical team, delivering 1-2-1 sessions to support a person living with MS. Julie got in touch with the team after signing up to challenge herself with the 13.1 distance and asked if she could support the Centre whilst taking on the distance.
We are delighted that Julie and Claudia have decided to fundraise for the Centre.  Completing the London Classics is such a fantastic achievement and the Oxford Half Marathon will be an amazing day.  Thank you to both Julie and Claudia and the people that have donated to each of them, for their generous support.
Together, Claudia and Julie have raised over £815 so far for the Chilterns MS Centre.  This money will enable the Centre to keep offering therapies and support to our members living with multiple sclerosis, empowering them to thrive.
If you'd like to join us in saying a huge congratulations and thank you, you can leave them a message of support, or a donation,  by visiting Claudia's fundraising page and Julie's fundraising page.
Find out more about taking part in a challenge event to support the Chilterns MS Centre by visiting our fundraising page, or by emailing fundraising@chilternsmscentre.org