2021 Miles in 2021
This year Ian Inman set himself a challenge to walk 2021 miles to raise money for the Centre.  His wife has multiple sclerosis and he has first-hand knowledge of how much the disease can impact daily life.  He appreciated the positive impact of physio and OT services on the outcome of relapses and their ability to help people live a near to normal life as possible.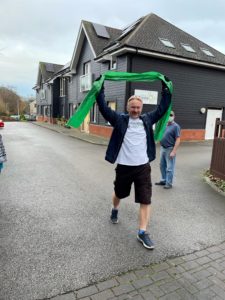 On 14th December he passed his target of 2021 miles but carried on to reach almost 2100 miles.
To put his challenge into context, he has walked for around 670 hours and done 4.4m steps!
Ian said:
Walking over 2000 miles this year has been challenging, from both a time and effort perspective (averaging nearly 6 miles a day) – but it has all been worthwhile to raise vital funds to enable the Centre to support local people with MS. Hopefully we can reach the target of £1000 before the year-end.
If you would like to make a donation for Ian,  you can visit his fundraising page.
If you would like to take on a challenge in 2022 you can find out more by visiting our fundraising page, or by emailing fundraising@chilternsmscentre.org