The Art Group will now be called the Angell Art Group
The Kaleidoscope Art Group was set up by Carolyn and Kelly in November 2015.  It started small and it has evolved over the years with the addition of two artist volunteers,
It began as more of an art appreciation group with us 'dabbling'.  But as the Group developed and we gained more confidence we started to get more experimental and explore more mediums. With this, our numbers grew and with the knowledge and ideas brought along each week by our two artist volunteers Judith and Gabby, our Art Group became what it is today.
Carolyn loved Art and was very knowledgeable about artists and artistic styles.  She oozed enthusiasm and appreciation. Carolyn was very aware of the therapeutic qualities of art and this was our main focus and reason to keep going over the years, seeing the positive effects art has on our members socially, psychologically and emotionally.  Their confidence, self-belief and pride in their achievement grow every week.
Some of the members come to every session and they are all surprised and proud of what they can achieve.  Many didn't think that they could create anything, but this group has shown them that with a bit of knowledge, support and encouragement they can do anything.
"I get a real buzz coming to the art group and I've made a lot of friends.  Gabby always pushes our boundaries and I've even started doing art at home." Kelvin
"I love coming here.  It absorbs me and I feel like I belong here.  I've discovered I can do things I didn't think I could and it gives me a real sense of calm.  I really appreciate this group being available to me."  Claire

"When I come to the group it makes me come alive.  It's lovely to meet everyone and it gives you inspiration and confidence that you can do it." Caroline
Sadly, Carolyn passed away in December 2019 after a short illness.  In honour of her passion for art and her dedication to helping people with MS improve their lives, we have decided to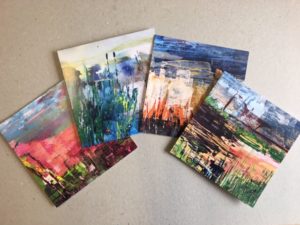 rename the group the Angell Art Group in her memory.
Today the group produces many different types of art, which we often turn into cards, calendars or gifts.  The next opportunity to purchase some of the group's creations is at the Pop-Up Art Weekend this March.
If you would like to join the group please speak to Kelly for more information or pop along to any of our fortnightly sessions.  They take place every other Wednesday from 10am to midday.