The Chilterns MS Centre's Pop-Up Art Weekend raises an amazing £17,000 to support people affected by multiple sclerosis (MS).
The Wendover-based charity hosted its annual art exhibition over the weekend and showcased a huge range of amazing art from over 90 artists – making £17,000 to fund treatments for people with MS.  Visitors were treated to classic watercolours, stunning acrylics, colourful prints, gorgeous jewellery and even a horse's head!
The Centre's own Angell Art Group also exhibited and sold their work.  The group plays such an important role at the Centre, giving members a fun social setting to try something new, have fun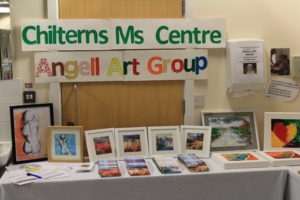 and make new friends.
"If I didn't have MS I would never have joined [the art] group and that would be rubbish.  It's wonderful and amazing.  I can't describe what art has done for our group and how it invigorates us all.  We really have a good time.  It gives us freedom and shows us how to do things that we would never have thought of.  I am so grateful to the MS Centre and we would be absolutely lost without it."  Sandra, Angell Art Group
A steady stream of people came to the Centre over two days to enjoy the widest variety of art that there has ever been at the show.  Afterwards, visitors relaxed with one of the many delicious homemade cakes that were donated, which helped to boost proceeds further.
"This was a great event with a real range of talented work!  I'm already looking forward to next year!"  Tricia Glaves, exhibition visitor.
Over the years over £132,000 has been raised in total to help the Centre to provide physical, practical and emotional support to people with MS and their families.  The services are free to those affected by MS and so events like the Art Weekend provide the vital funds the Centre needs to keep supporting the MS community in the Chilterns and the surrounding counties.
Hannah Prentice, Community & Events Fundraiser said
We're delighted that so many people came to support us, especially in light of the current situation.  It's been a record-breaking year for the exhibition and we rely so much on the generosity of others to be able to run our services.  We help people to do the simple things many of us take for granted, like brushing their own teeth or being able to cook a simple meal.  Such a small thing can make a huge difference to someone living with MS, and the funds raised will help more people with MS to achieve their goals.  We thank all of the artists who took part in the exhibition for making this such an excellent show.  We also want to thank all of our sponsors, including Michael Anthony Estate Agents, for their invaluable support again this year.
The dates for next years' exhibition are 6-7 March 2021.