The vast majority of respondents (95%) to a survey of members conducted by the Chilterns MS Centre said they would recommend the Centre to anyone else with their condition, or their carers. This shows the incredible depth of feeling that members have for the Centre and they support they receive.
For 37 years the Wendover-based charity has been providing treatments and services such as physiotherapy and hydrotherapy as well as a range of therapeutic leisure groups to people with multiple sclerosis, helping them to manage their condition and live life to the full. More recently the Centre has opened up its services to people with Parkinson's Disease and Stroke Survivors.
Four-fifths of respondents to the survey (81%) indicated that the Centre helped them manage their symptoms at least most of the time while a similar number indicated that the Centre helped improve both their physical and mental health (83% and 80%, respectively).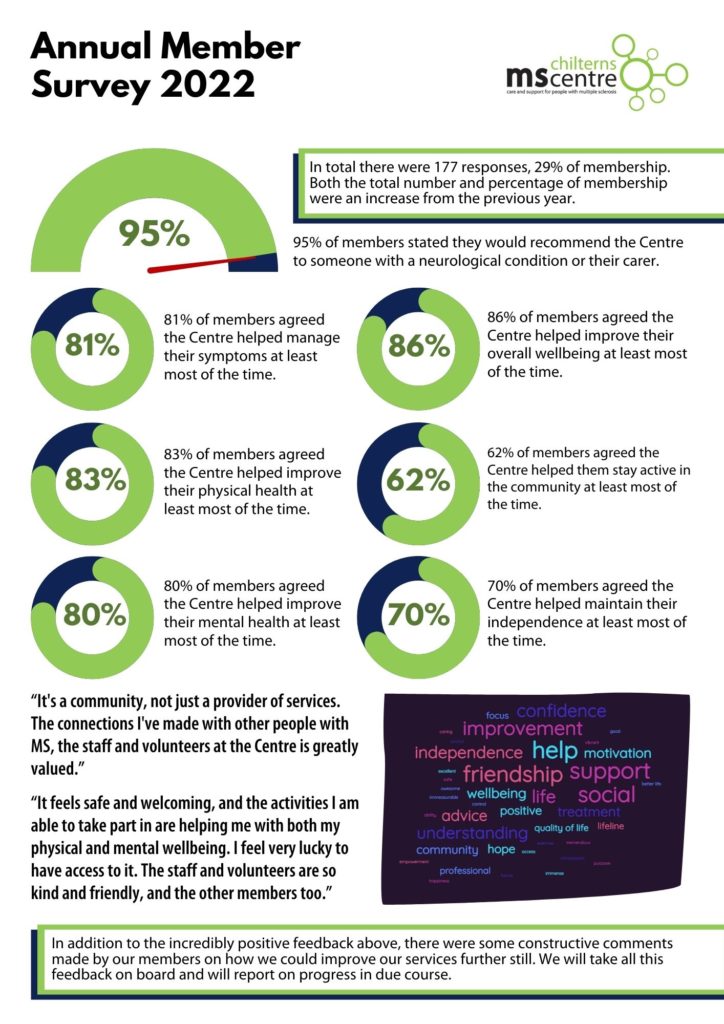 "This is a great testament to the work being carried out by our incredible team at the Centre, ably supported in no small part by our wonderful group of volunteers," said Amy Smissen, Head of Integrated Clinical Services at the Centre.
"Neurological conditions can have a devastating effect on people and families but with the wide range of support offered by the Centre we can help improve the quality of life for so many people."
So many positive comments were received as part of the survey and these included the two below from members of the Centre.
"It's a community, not just a provider of services. The connections I've made with other people with MS, the staff and volunteers at the Centre is greatly valued."
"It feels safe and welcoming, and the activities I am able to take part in are helping me with both my physical and mental wellbeing. I feel very lucky to have access to it. The staff and volunteers are so kind and friendly, and the other members too."
If anyone with MS, Parkinson's or who has experienced a stroke feels they would benefit from the services offered then they should get in touch with the Chilterns MS Centre by phoning 01296 696133.