OT Tips – Cooking Baskets
Cooking Basket Uses
If you struggle to carry a pan of hot water from the hob to the sink to be strained, cooking baskets can be very useful.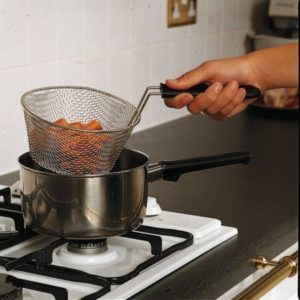 Cooking baskets allow vegetables or other food items to be cooked and strained without the need to lift a pan of boiling water. They usually have a molded nylon handle for easy grip and insulation.
How to use cooking baskets
Put the basket inside your saucepan at the beginning of cooking. When ready to serve, lift the basket up, allow water to drip for a few seconds then put food straight onto your plate. The heavy hot water pan stays where it is to either cool down so that you can safely transfer it later or for someone else to move it for you!
Where to get cooking baskets
Available from most online disability stores, just type in 'cooking basket' to search engine. Costs around £10 – £20, depending on the type.
Check out our other OT tips below.