OT Tips – Food Preparation Board
Do you find it difficult to do everyday kitchen tasks due to a weak or non-functioning hand?
A food preparation board is a versatile kitchen aid that can help you to remain independent with these tasks.
How to use a Food Preparation Board
There are many food preparation boards available on the market, which all aim to help you independently prepare food using one hand. Most boards feature a plastic clamp which enables you to hold bigger items such as loaves or a bowl securely in place.
Most also have stainless steel spikes to secure fruit and veg in place allowing you to prepare one-handed.
They also have a raised 'L' shaped corner which can be used to hold bread in place while you butter it using one hand.
They all feature non-slip suction pads that firmly anchor the board in place.
Where to get food preparation boards 
There is a variety of these boards available from online disability stores so it is worth doing some research so you get one that helps you with what you find difficult.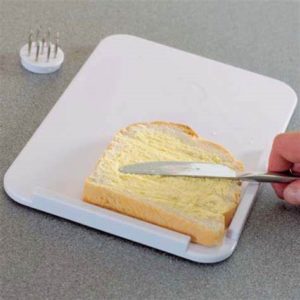 They range in price.  The one in the photo above is called the '
Swedish Fix It Food Preparation Board
' and is the most popular, it costs around £45.00.
You can get cheaper ones that feature just elements of the bigger boards such as an economy breadboard at £6.00
Watch a demonstration of how to use the board below.
Check out or other OT tips below.