OT Tips – Handy Bar Car Transfer Aid
If you find sitting to standing from a car difficult then you may be interested in using a Handy Bar –  a simple but useful mobility aid that helps you get in and out of your vehicle.
We would advise you to speak to your physiotherapist for advice before using any transfer aids, as this may not be suitable for your specific needs.
The Handy Bar features a soft grip, anti-slip handle that is comfortable to use. The super-strong forged steel shaft creates a safe, solid support handle where it is needed. It is suitable for most vehicles.
It provides strong, secure assistance in getting in and out of a car and acts as a grab bar. The Handy Bar inserts into the u-shaped striker plate on your vehicle door frame.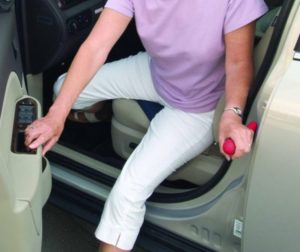 The u-shaped striker plate is one of the strongest parts of the vehicle and is designed to keep your vehicle door closed in the event of a side-impact collision. There is a striker on each of the vehicle's door pillars allowing the Handy Bar to be used on both driver and passenger side-doors.
Watch a demonstration video of the Handy Bar in use.
The Handy Bar costs around £20-25 and can be brought from online disability stores or Amazon.
Check out or other OT tips below.