OT Tips – Key Turners
If you find keys fiddly and difficult to turn, there are a range of key turners available which aim to make this task easier for you. Depending on what type of hand function you have, you may find a 'keywing' pictured above will be enough to help you grip, or you may prefer something larger.
Keywing
The' Keywing' is an everyday key turner that clips on to create additional surface area on the head of a key. When in place, the Keywing gives you extra grip and control and provides increased leverage, making keys much easier to turn with far less strength. They come in a pack of three so that you can identify keys easily, or you can buy them individually. Take a look at their website for more information and a video demonstration.
They come as individual items or a triple pack and can be purchased at some online disability stores as well as Amazon. Prices start at £5.29 for an individual keywing.
Easy Grip 3-Key Turner
You may prefer something a little larger like an easy-grip 3-key turner.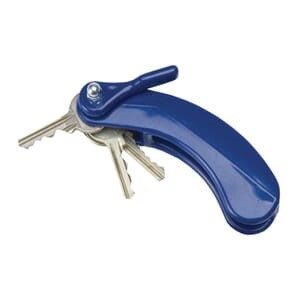 It is designed to hold up to three keys safely and securely, making them easier to use and control. The large handle provides an easy, secure grip on the keys for good leverage for turning. You may need someone to initially set this up for you to use. Watch a video demonstration. 
They are available from all online disability stores and Amazon, with prices starting at £4.00
Check out or other OT tips below.