OT Tips – Pill Popper
If you find it difficult and fiddly to push out tablets from their packs then a pill popper may help you.
A pill popper is an invaluable aid that has been designed to help users to remove pills and tablets from blister packs with ease. There are two main types of pill popper on the market.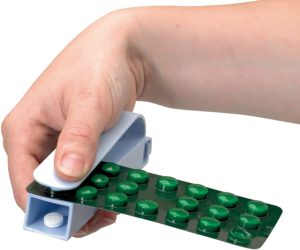 The
Pill Popper & Dispenser
is made from highly durable plastic and thanks to its ergonomic shape is perfect for those with limited dexterity. The lightweight and compact design ensures the pill dispenser can be carried in a handbag or pocket with ease.
Simply position the pill packet over the hole and push down the popper arm. This then punches the tablet out of the pack, which then falls into the container below, where it can be tipped out into the user's hand.
The pill popper is available from most online disability stores and amazon and costs around £3.
The Pivotell Pill Popper is a similar device. It is adjustable for opening small or large pills.  Place the transparent tube over the correct compartment of a Dossett tray, and simply pop the tablet out of the blister packet making sure it enters the intended compartment via the tube.
This is available from Amazon and online disability stores and costs £32.99
Take a look at the Pivotell website www.pivotell.co.uk it has lots of gadgets and modern tech that can help with dispensing and remembering to take your medication,
Check out or other OT tips below.