This week's recipe comes from Fiona Wilcock.
Proper Patatas Bravas
Delicious smoky tomato sauce with a little chilli, roasted potatoes, and not a soggy chip in chilli mayo in sight (in case that's what you've experienced on the Costa del…..) Even taking into account cooking losses this dish is rich in immune-supporting vitamin C and a doddle to make. If you happen to have lots of fresh tomatoes, then make this even more authentic by using chopped fresh tomatoes instead of canned. The tomato sauce is a great basic so why not make double the quantity you need and freeze half.
Makes 4 starter size portions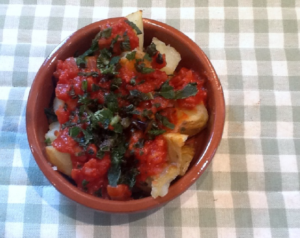 Preparation time 15 minutes
Cooking time: 45 minutes
For the potatoes
650g roasting potatoes such as Maris Piper or King Edward, scrubbed and cut into 2 cm cubes
2 tbsp vegetable oil
For the sauce:
1 tbsp olive oil
1 medium onion (160g), finely chopped
2 cloves garlic, crushed
1 tsp smoked paprika or regular if you prefer,
1 tsp chilli powder (optional)
400g can chopped tomatoes in tomato juice
2 tbsp tomato puree
Pinch of sugar
Black pepper
To serve: 2 tbsp chopped parsley
Method
Preheat the oven to 200°C, 180°C for fan assisted ovens and gas mark 6
Place the oil in a roasting tin and heat in the oven until hot.
Tip in the potatoes and turn them to coat in the oil
Roast the potatoes, turning occasionally until golden and crisp – 40-50 minutes.
Meanwhile, prepare the sauce by heating the oil in a non-stick saucepan and frying the onion until softened.
Add the garlic, spices, canned tomatoes and puree, and stir in a pinch of sugar.
Bring to the boil, stirring and then simmer for 10-15 minutes until the sauce is pulpy and soft.
Season with black pepper.
When the potatoes are cooked place in a serving dish and cover with the sauce.
Sprinkle over the chopped parsley.
Tip: there's no need to peel the potatoes, just make sure they are well-scrubbed.
Variation: Omit the spices from the sauce and add your favourite herbs, or drop in a few black olives, some lemon zest, or add chopped peppers to the sauce.
Serving suggestion: Serve as part of a tapas-style meal, with cold meats, Spanish cheeses or anchovies.
Storage: The sauce may be kept in an airtight container and refrigerated for up to 2 days. Alternatively freeze the sauce, thaw and serve with fish, pasta or chicken.
Nutritional analysis per portion
Data is per portion, . And takes account of cooking losses.
Energy kcal 236 Protein g 5.8
Carbohydrate g 35.6
Of which sugars g 7.3
Fibre g 5.2
Salt g 0.2
Fat g 9.1
Of which saturates g 0.8
Vitamin C 22.7
Copyright Fiona Wilcock 2020