Our Services and Support During the Pandemic
IMPORTANT NOTICE: 
Last updated 12/04/2021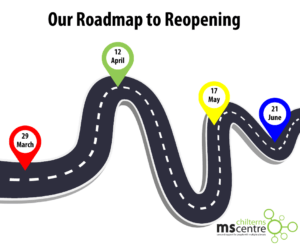 The Centre is open for pre-booked physiotherapy appointments, foot health, acupuncture and oxygen only.  We have set out our roadmap for reopening more services as restrictions are lifted.
From 29 March we will be able to
Have up to a MAXIMUM of 6 members meeting outside on the patio
Run an additional afternoon oxygen session on Tuesday afternoons
You should still keep 2 metres away from people outside of your household (except when being treated by a clinician).
From 03 May we will be able to:
Re-open the newly refurbished pool for one to one hydrotherapy
Please note Pool availability will depend on hydrotherapist resources
From 17 May we should be able to start the following:
Up to two households or 6 people per table can meet in the atrium
Café will re-open Tuesday to Thursday from 10am to 2pm. Table service only and we are investigating contactless payments.
Social activity programme for up to 6 people – a short survey will be sent out on 02 April to gauge numbers & what activities to provide
Pool will re-open for group hydrotherapy – availability will depend on hydrotherapist resources
Resume some face to face exercise classes for up to five members
Zoom classes will continue
Add more oxygen afternoon sessions dependent upon volunteer resources (this may be sooner than 17th May)
From 21 June
If everything goes to plan, we hope to return to a fuller programme of therapies and treatments.
We will await further information from the Government before any final decisions are made.
Download an accessible version of our roadmap.
Our remote support services will continue through telephone and video calls with our physio team, live exercise classes, online workshops, virtual social activities and telephone counselling.  We are still accepting new members, although assessments will take place via telephone/video call.
For online EXERCISE CLASSES and Yoga please email exercise@chilternsmscentre.org to be sent the Zoom link.  Bookings must be received by the day before the class.
For OXYGEN appointments please email oxygen@chilternsmscentre.org.  We are currently only allowing 2 people in the chamber at one time, following strict guidelines that will be explained to you when you book your appointment.
PHYSIO appointments require an initial telephone consultation.  Please call us or email info@chilternsmscentre.org to arrange a call with your physiotherapist.
New member referrals are welcome.  Please call us to arrange a chat with one of our clinical team.
On this page you will find links to helpful advice and services, as well as articles and videos on additional exercises, workshops and activities you can do from home.
If you have any concerns please contact us on 01296 696133 or info@chilternsmscentre.org
Can you recommend any exercises that I can do at home?
Yes!  Your therapist will advise a suitable home programme for you but we have put together a list of suitable videos on exercise, relaxation and more for you to try at home.  If you find any others that are useful why not tell us too by emailing us at the address above or posting them to our page on Facebook.
Where can  I go for more information and support?
Chilterns MS Centre
If you are a member you can join our Members Facebook Group for support from the Centre and other members.  You can also visit our Facebook page.
You can also call us on 01296 696133 Monday to Friday from 9am to 5pm if you have any concerns or questions.
Amy Smissen has some great tips on how to keep sane during self-isolation and social distancing.  Visit our YouTube Channel for the latest tips.
MS Society
A very helpful page that brings together current advice on MS and COVID-19 including self-isolation, DMDs, symptoms and benefits.
If you are worried about your MS and coronavirus and want to chat to someone, call the MS Helpline on 0808 800 8000 Monday to Friday, 9am to 7pm except bank holidays.
You can also try some exercise at home with these great videos.
UK Government
Go to the UK government coronavirus page
NHS
Read NHS advice about staying at home

Go to the NHS 111 coronavirus service
Carers
Read about support for carers on the Carers UK website
Visit the Carers Bucks website
MIND
Read MIND's information about coronavirus and your wellbeing
This page will be updated regularly as new information and advice become available.