Exercise Classes for Multiple Sclerosis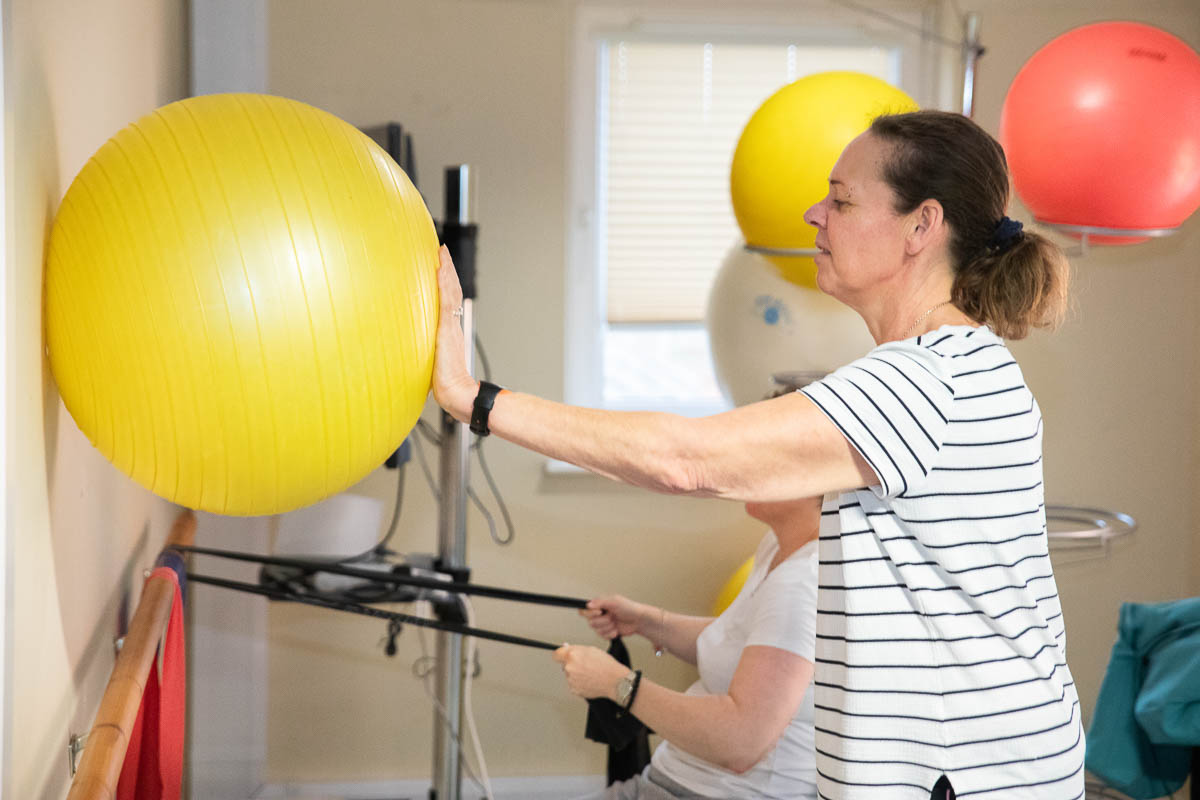 What are Exercise Classes for Multiple Sclerosis?
Exercise is good for everyone and we encourage anyone with multiple sclerosis to increase the amount of exercise they do, even if it's just by a small amount each week.  Even a few minutes of activity each day can have a very positive impact on your symptoms.
Our classes are a great introduction to the Centre for those who may not want or need to have one-to-one treatment or additional support at this time.  Our exercise therapists understand how the body can be affected by multiple sclerosis and the classes are tailored to suit different abilities and symptoms, something that standard exercise classes may not consider.
We have a mix of classes per week to suit all different ability levels.  No matter how much or how little movement you have, there will be a class that you can benefit from.
Our classes are grouped as follows:
Classes for those who can stand for at least 45 minutes (with or without an aid)
Classes for those who can stand but for less than 45 minutes at a time (half and half class)
Fully seated classes
Due to lockdown, all of our classes are currently run on Zoom.
Our March Timetable is:
Monday:
9am Seated Stretch
10am Half and Half Exercise
1pm Standing Balance Class
Tuesday:
9:30am Half and Half Exercise
1pm Mat-based Core
2:30pm Standing Strength
Wednesday:
9:30am Standing Balance Class
1pm Half and Half Exercise
Thursday:
9:30am Seated Exercise
1pm Standing Exercise
2:30pm Seated Stretch
Friday:
8am Early Bird Standing Exercise
9am Half and Half Exercise
11am Mat-based Core Class
Or you can print a copy of our timetable.
Book by emailing
exercise@chilternsmscentre.org
including your phone number.  The zoom link will be emailed to you once our exercise team are confident that the class is suitable for you.
You can also watch some of our classes on our YouTube channel. We also have a range of exercise videos on our Home Exercise page.
The following sessions are not currently available due to COVID-19, but we will resume these as soon as we can.
Games-based classes like Boccia for all abilities
Open Gym sessions for those who can independently follow an exercise programme
Open Hydrotherapy classes for those who can independently follow an exercise programme and have had hydrotherapy at the Centre before.
HOW COULD EXERCISE CLASSES BENEFIT ME?
According to NICE (National Institute for Health & Care Excellence), remaining physically active can improve mobility and fatigue. It can also help to reduce the secondary complications of inactivity, such as pressure sores, and help people with multiple sclerosis to regain or maintain their strength.
Promotes an active lifestyle
Improves quality of life
Improves and maintains mobility
Improves general health and well-being
Assists in restoring range of motion
Restores/improves muscular strength, power and endurance
Improves skeletal muscle function and overall body function
Reduces fatigue
Improves Cardiovascular function
Plus it can be social & fun!
HOW TO ACCESS EXERCISE CLASSES?
You don't need to have an initial assessment before you can attend the classes.  If you are not a member please speak to one of our exercise therapists for an initial chat about which classes are suitable for you.  You will need to become a member by paying your membership fee before you start the class.  You will also have to complete a pre-screening questionnaire so that the team can make sure they put you in the right class to suit your ability and health needs.
If you are interested in registering your interest for our face-to-face exercise classes please email our exercise team.
To have a chat about which classes are suitable for you, speak to your physiotherapist or email our exercise team.
OUR TREATMENTS AND THERAPIES