New Patient or Recently Diagnosed
Recently diagnosed or New to the Centre?
We know that receiving a diagnosis may be scary and you might not feel like you need any treatment or support at this time. However, studies have shown that early intervention can help to minimise the effects of some symptoms and can enable you to manage them so that you can continue everyday life as fully and as normally as possible.
We can help you on several levels; practically, emotionally and socially. We can help to answer some of the many questions that you will have and can provide the opportunity to meet people in similar situations in our friendly setting, to share experiences or hear how others cope with their MS.  Even if you don't feel ill or you are concerned that you may be taking up an appointment that someone else is in greater need of you can still contact us as we offer support no matter where you are on your MS journey.
Even if you feel well or haven't had a relapse for a while, there are still plenty of classes and workshops that you can attend.  Regular exercise is good for everyone but at the Centre our instructors really understand MS and so can deliver classes more suitable to someone with the condition that a regular exercise class.
As well as those living with MS, we also support family members and carers who are also affected by the condition, helping them to adjust to life with MS and ensuring that their wellbeing is also considered.
The COVID-19 pandemic hasn't stopped us, and it doesn't stop us receiving new members either.  Whilst we are only offering a very limited number of appointments, most of our services, including our initial assessments, are available online or through video or telephone calls.  Don't let the pandemic and social distancing stop you from getting the support that you need.
Benefits of becoming a member
Whether you have MS yourself, or you are a family member or carer of someone with MS, everyone is welcome to become a member of the Centre. Becoming a member offers you:
Fast access to our services and support 51 weeks of the year.
Advice and signposting to additional support services
A friendly place (online) to come and meet others in a similar situation
Membership is just £25 per year
Whilst we don't make an additional charge for any of our treatments, classes or workshops, we do encourage people to make a regular donation if they can. Receiving these treatments privately would be very costly, but by asking for donations this enables everyone with MS to have access to the treatment and support they need.
How to become a member?
To become a member ask your GP, MS Nurse or Neurologist to refer you to the Centre. Once we receive your referral we will contact you to invite you for the assessment. Assessment appointments are normally offered within 2-4 weeks of receiving a referral.  We have a range of appointment times available, from 8.30am to 6pm.
Treatment can start within a few weeks following your assessment so the process is very quick. During your assessment we will talk to you about your symptoms and your goals, and assess the best course of treatment or support for you at that time. You can then become a member and access all of our services, workshops, social groups and advice.
You will be given a bespoke treatment plan and may be referred to some of our services such as physio, oxygen, counselling, occupational therapy, speech & language therapy or complementary therapy. You can also attend any of our online workshops or online social groups.
Family and carers can become members too, without the need for a referral, as long as the person with MS has become a member of the Centre.
You are more than welcome to chat to us about what we offer – fill the Request a Call Back form on this page.  Unfortunately we cannot offer tours of the Centre at the moment.
What if I cannot get to you in working hours?
If you are working full time, or simply don't want to attend on a regular basis that's fine. Whatever your situation we are here to let you know what is available to you and to answer your questions.
Here are just some of the things that we offer outside of our treatments:
We run a monthly pub get together called CMS Connect, for people mostly in their 30s and 40s. This is a friendly welcoming group, ideal for new people to connect with Centre members in a fun and friendly social setting. They understand what you are going through and can offer great friendship and support.  Unfortunately this has been suspended due to COVID-19. Contact the group today for more information cmsconnect@chilternsmscentre.org
Workshops are run throughout the year on a number of topics from how to manage a healthy diet, practical wheelchair courses or emotional wellbeing.  Currently these are online courses delivered through Zoom and email.
Online Yoga & Exercise Classes.  Some of these are live during the day but many are on our YouTube Channel and our Home Exercise page.
A regular newsletter for members. Sign up to find out on what's going on at the Centre, fundraising events and much more. Simply complete the Newsletter sign up form in the footer of this page.
Members Stories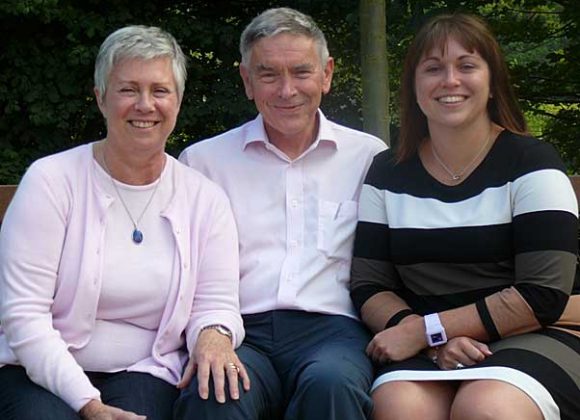 Allen Family The Chilterns MS Centre nestles between the woods at Wendover and the RAF community at Halton and has...