Physiotherapy for Multiple Sclerosis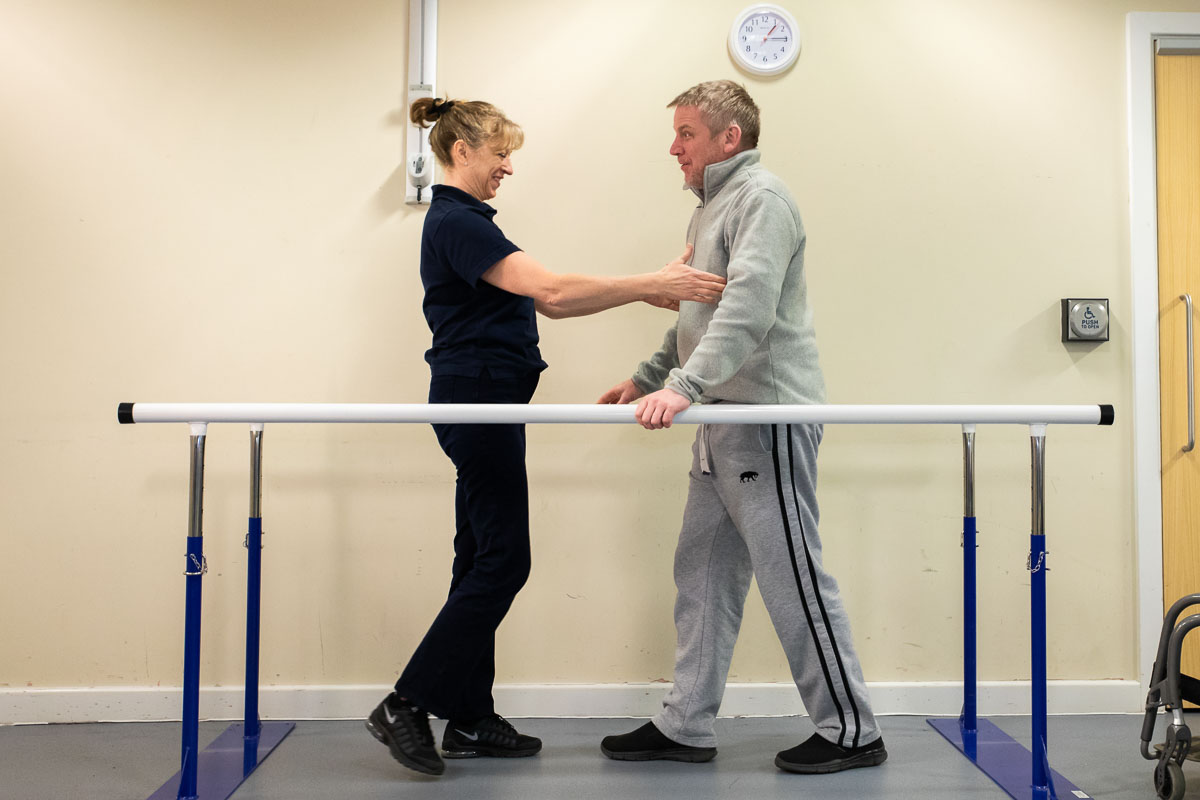 WHAT IS PHYSIOTHERAPY FOR MULTIPLE SCLEROSIS?
Physiotherapy improves or restores a person's movement and functions using physical methods such as movement, exercise, and manual therapy. Physiotherapy specifically tailored for people with multiple sclerosis, delivered as part of a multidisciplinary team approach, provides a range of benefits; from improving physical health to enhancing quality of life. As one of the main non drug-based treatments for managing multiple sclerosis symptoms, it can enable you to stay in work or remain independent for as long as possible.
At the Chilterns MS Centre we deliver physiotherapy to our members based upon their clinical need, with targeted evidence-based treatment to help you to reach your specific goals. We also offer maintenance to those that need it through exercise, facilitate self-management strategies and provide advice and support when needed.
IS THE CENTRE CURRENTLY OFFERING PHYSIOTHERAPY?
We currently offer physiotherapy in two ways during the Coronavirus pandemic
Virtual appointments via Zoom or video call
We follow the advice from the Chartered Society of Physiotherapists is wherever possible to address issues remotely in the first instance.   We can offer advice, assess your mobility, give you some exercises to do and answer any questions you may have.
Calls can be booked by calling 01296 696133 or email info@chilternsmscentre.org and tell us your name, contact number and name of the last physio who treated you.
Face-to-face appointments
We have a small number of face-to-face appointments available to members who have been assessed virtually by one of our physios.   If they believe that a successful outcome cannot be achieved through remote treatment, they will then consider a face-to-face appointment.
The types of issues most likely to require a face-to-face appointment include
Significant deterioration in mobility and frequent falls
Unsafe transfer methods
Severe pain
Risk of developing pressure sores
Living alone or a lack of support at home
If you think that you need a face-to-face appointment you must contact us:
Call 01296 696133 and leave a message with your name, phone number and the name of the physio who last treated you/spoke to you.
or email info@chilternsmscentre.org with the same details
You will be contacted by a member of the physio team within 7-10 days and they may go through a screening assessment with you first.
If you feel anxious about what to expect when coming for a face-to-face appointment,
here is a short film
to help with any worries you may have.
All the members we have treated so far feel the enhanced protection and precautions are "excellent" and everyone was "absolutely" comfortable with the social distancing measures.
"Thank you for making me feel safe"
"Feels like everything that needs to be done has already been done"
HOW COULD PHYSIOTHERAPY BENEFIT ME?
Physiotherapy has many benefits if you have multiple sclerosis and can be focused on one specific area, or the whole body.
Some benefits include:
Symptom management to improve mobility and movements, and reduce pain.
Postural management to promote good posture, breathing control, functional movement and long-term maintenance.
Improved balance and reduction in falls and injury.
If you have multiple sclerosis our physiotherapy is delivered in a number of ways:
Self-management and recommendations.
Gait re-education, FES assessment, advice and selection of orthosis and walking aids.
Wheelchair clinic and skills training.
Hand and upper limb rehabilitation.
Fall prevention workshops
HOW TO ACCESS PHYSIOTHERAPY?
Requirement for physiotherapy will be identified in your initial and review assessments. Based on the referral, one of our Physiotherapists will be in touch with you to offer a physiotherapy assessment to identify your goals and treatment plan. Depending on your goals you may be offered a course of Physiotherapy.
OUR TREATMENTS AND THERAPIES